Style & Space Planning Project Triggers
Large Projects
70%
Purchase (or building) New Home
Updating or Repurposing a Room
20%
Change in household makeup e.g., recent empty nester.
Need to Replace Major Item
10%
Replace heavily used furniture (couch)
Challenge
Visual
Ability to see multiple items together in their own space/environment before commitment.
Getting to know my surroundings
My my domain at Wayfair was to Define Design Services for all omni channels. Starting with AllModern and Joss & Main stores (15k+ sq ft) with the ultimate goal of scaling up to large format Wayfair stores (150k+ sq ft). The initial high-level strategy work was handled by an outside agency and while they did a great job of identifying where some aspects of the design consultation work would happen—the overall Design Services strategy work (especially platform translation) was lacking, not to mention very little to go by in terms of data or user insights. We were starting from scratch.
This blueprint was used to communicate our product approach to features/updates/changes to stakeholders outside of product design.
Swatches & Samples Opportunity
Utilize the same code scanner using the in-store mode app to create dedicated swatch lists.
Rather than have swatches in a list with other products, automatically tag them so they are grouped and located in specific project lists e.g., living room or kitchen remodel.
Keeping track of swatches and minimizing associate involvement will contribute to meeting key business goals.
Prior to launching I set an initiative to collect customer feedback by doing user research through usertesting.com and created this prototype to facilitate the test.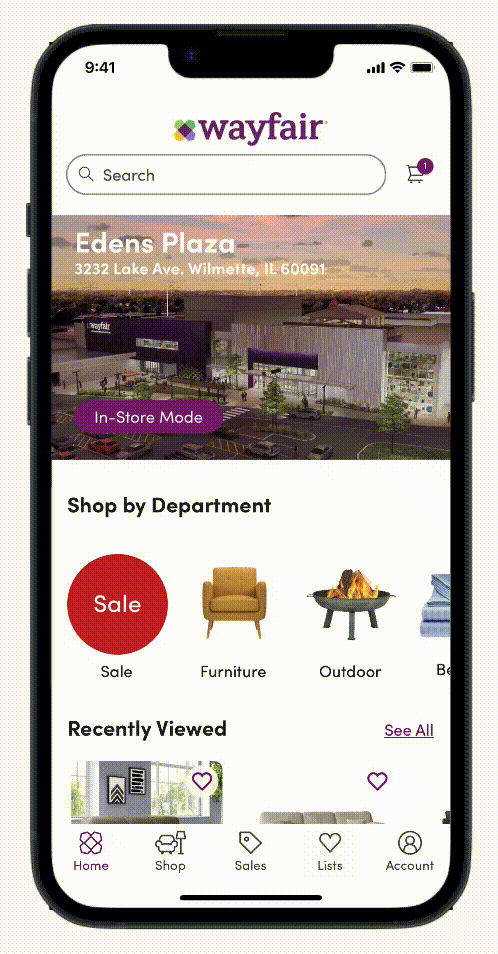 UX, Product, Service Design
Swatches + Samples
How Might We
Empower in-store guests to easily and quickly visualize how various home finishes look together to increase purchase confidence while driving sales, mobile conversions, and design associate engagement?
​
TL;DR
​
Lead the Swatches & Samples program for Wayfair omni channels using In-Store mode app.

Facilitated key stakeholder workshops.

Brainstormed & developed app & suite features.

Participated in user interviews.

Advocated user-centric approaches.

Created unique visuals for the suite as a whole (illustrations/product app icons).
​
By combining physical and digital elements in signature shoppable stations that generate lists, and streamline project takeaways.
Situation
Guests may interact with all or a few touchpoints while looking to customize their space in-store.
Customers have emphasized different tools offer different benefits depending on both their journey phase & primary need (style vs. space planning).
In-store Explore & Plan is where this work will focus.
Swatches & Samples are Essential
Reinforcement
Nearly 60% of respondents wanted to get help with being able to gather + visualize ideas.
​
Nearly half to these respondents also wanted to physically assess product materials.
Surprisingly, less than 20% expected to see realistic renderings of their space.
Swatches & samples will be an important part of the in-store shopping experience for guests who want to remodel or renovate their space. Currently, guests and associates must order swatches via the brand site (AllModern and Joss & Main physical locations).
We Go Above
and Beyond
Physical Retail Exploration
Personas, Visits, Mindsets
In-Store Mode Audits
Nike has one of the best in-store modes in retail. Leveraging location services, the entire app changes when a customer enters the store
Digitizing Samples
Scanning and adding swatches to Storefront is a time-consuming process.
​
Samples are scanned one at a time at HQ and are edited to closely match the original.

The legacy process means not all samples are tagged equally.

Swatches library has millions of digital samples, making it impossible to surface categories like 'family-friendly' since it's highly likely that a family-friendly swatch may not be tagged and mislead the guest.
App Minimum Viable Product
• Scan swatches while using 'In-Store' mode app.
• Automatically create lists.
• Ability to share (via code or email).
• Merge, edit, and delete swatches.
• Edit list names.
• Add sample details features like 'family-friendly.'
• See similar materials.
• Track inventory.
• Allow customers to take away swatches.
MVP Feature Suite Proposal
Increased Guest Acquisition
Success for Physical Retail Means..
We'll measure foot traffic, online traffic, app engagement, repeat visits, and participation in-store activations.
Simplification Pivot (features)
Learnings
Currently using 3d party software (DesignFiles) for project planning and can not integrate into the self-serve process for purchasing.
This screen adds one step to getting to the scan feature. Guests can exit to search and find their list under their profile.
Sample/Swatch Detail Page
The legacy process of adding samples to Storefront has created inconsistent data. Standardizing this would take a significant effort of editing millions of samples.
The project paused due to resources and reprioritization.
In-Store Renovation Audits
Samples are provided by an associate.
Style & space planning is hard.
Guests want to customize style and space (e.g., changing the floors and wall colors, choosing the right finishes for furniture to fit their lifestyle) and interact/change the layouts and items. These capabilities help customers envision what items will look like in their own space, giving them the confidence to purchase high-cost, high-consideration items.
​
Expanding the swatch/sample program to all Wayfair and Specialty Retail Brands physical retail formats (15k - 150k+ sq ft) will allow guests to assess and compare materials physically in their space.
I was tasked to identify ways of using tech to solve functional challenges and reduce common home retail experience friction points in the design process. This work would help create a seamless and frictionless experience for our guests by creating opportunities for them to flow between online and in-store and within the store, based on their needs, while minimizing associate time and ensuring swatches were always available for guests to take home.
Business Goals:
Provide tools that enable customer decision-making through a review of options.

Increase the confidence of design combinations to increase sales.

Connect physical swatches to in-store and online options.
​
The Team: Dorai F. (Design Manager), Evan C. (Product Manager), Micaela L (UX Researcher), Laura W. (Business Partner), Jonathan S. (Software Engineer), Balazs I (Software Engineer), Joseph B. (Associate Facing Design Manager). ​
My Role: Design Lead responsible for defining and envisioning the guest-facing in-store swatches & samples experience.
Deeper Project Dive
The in-store mode featured a code scanner to get to the product page. I wanted to leverage this feature to scan codes on the back of samples and automatically create a list to separate and group samples by project type.
Net New Illustrations & Components
Once we got cross-functional alignment, I opted to design new components as our HomeBase team had a long backlog that could take months. I communicated with the team along the way and went through an approval process as we were finishing up the project details.